Creative Director & Principle
"JUST A SPRINKLE OF MOROCCAN FLAIR HERE AND THERE"
With a sharp eye and strong attention to detail, Tiffany Montgomery is known for her distinctive, innovative, hands-on approach in expressing each clients' image and personality with timeless style and sophisticated grace.

Tiffany has been passionate about interior design since childhood. She received her formal education in arts and business at the University of Texas and continuing education studies in interior design at Rice University.
Highly recognized by the design industry and nation-wide press, Tiffany is currently designing luxury interiors throughout the Houston area. From high rise condominiums to estate homes and boutique hotels, Tiffany brings new design concepts to life. Along with expanding a home staging business throughout Texas, Tiffany meticulously creates enchanting environments reflective of each individual client.
When not creating for clients, Tiffany enjoys time with her husband and two children in their Houston home.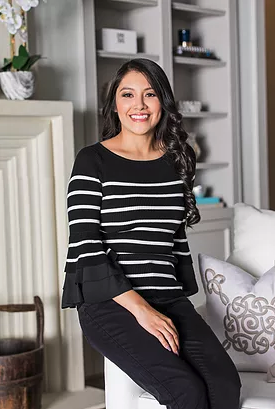 "LET A BOLD LIGHT FIXTURE BE THE CENTERPIECE AND STATEMENT"
Rebeca's love for design began at a young age when she would spend summers watching her mother work for a remodeling contractor. She earned an Environmental Design degree from Texas A&M University, and had the opportunity to travel to several countries, including Costa Rica, Italy, and France, which helped cultivate her design aesthetic. She has also held internships at the City of Houston Design and Construction Department and Harris County Energy Corridor District, deepening her understanding of large-scale projects and showing her the importance of paying attention to detail. At Torregrossa Interiors, Rebeca's innate desire to create unique and beautiful spaces flourishes. She makes each client's dream a reality and when she's not developing stunning interiors, she enjoys watercoloring and spending time with her family.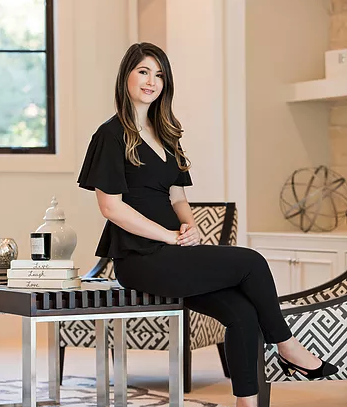 "ALL YOU NEED IS SWOON WORTHY WALLPAPER"
Originally from Hermosa Beach, CA , Nastassja earned a degree of interior design at the Fashion Institute of Design and Marketing in Downtown LA. During her education, she interned for the renowned designer, Martyn Lawrence Bullard, where she gained unparalleled experience helping on some of his amazing projects. Her design aesthetic is inspired by nature, her travels, art, and people she encounters. Nastassja combines functionality and creativity to design beautiful spaces that fit each client. On her free time you can find Nastassja exploring Houston, or snuggled up with her two dogs, Millie and Coconut.
"
EVERY SPACE NEEDS A BOLD RUG AND A SUCCULENT PLANT"
Kelsey is a fierce and fun loving member of the Torregrossa Interiors team. She has a background in marketing and advertising from the University of Houston. Her love of design and creativity lead her to Tiffany. Kelsey is the Operations Manager at Torregrossa Interiors; ensuring all aspects of the project run smoothly and bring Tiffany's visions to light. When she is not coming up with creative solutions you can find her running at trails and parks around Houston, and spending time with her husband and son, Cruz.